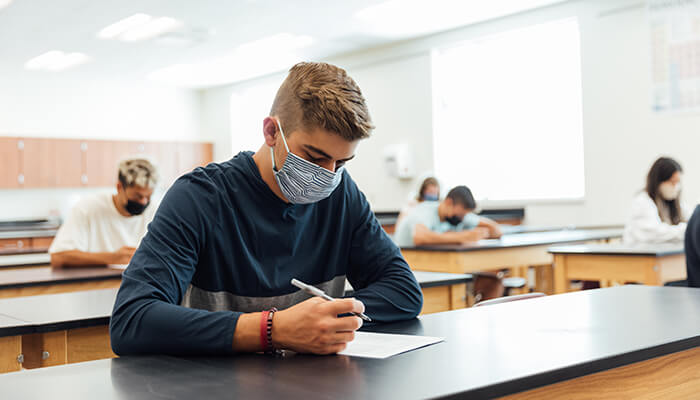 3-minute read
Earlier this month, the New York Times published a powerful, informative piece exploring the consequences of a chaotic, uncertain academic year. The article, titled "Will This Be a Lost Year for America's Children?", raised several points about the impact of those changes on children across the country. 
Here at Revolution Prep, however, we strongly believe the question posed in the title has a complex, but direct answer: No. It doesn't have to be, and it can't be. 
Education is the foundation of a functioning society, a strong economy, and the happiness and future of younger generations. It is through learning that barriers are broken and positive change enacted. To give up on a whole year of our children's education is not an option. 
The real problem is not the obstacles created by the pandemic, but rather the lack of access to and awareness of existing resources that help us overcome those obstacles.
One of the first arguments mentioned in the article relates to the lower engagement children experience in online schooling. It's a valid point. When teachers are dealing with 25+ students in a virtual classroom, it's tough to make learning dynamic, interactive, and engaging. More importantly, students have way too many distractions at home to fully engage — unless they have their teacher's sole attention throughout the whole lesson. 
Teachers at some of our partner schools have reported that, while they offer virtual office hours for students to ask any questions or raise concerns, most of that time goes unused. That's an easy way to make sure our children are making the best of their online learning experiences: Taking advantage of valuable one-on-one time with their teachers.
However, even office hours are limited. That's when private tutoring comes in hand. Revolution Prep offers affordable access to qualified, trained tutors who can solely focus on each individual child's needs. That way, lessons are carefully designed and planned to optimize students' time and areas of focus. 
Create your own user feedback survey
A second concern that is correctly raised in the article relates to the use of technology and its potential limitations. It's normal to be worried about that — especially when most school teachers have never had to teach virtually before. Once again, we choose to see opportunities. Online learning offers possibilities that are impossible to emulate in person.
Say, for example, that a teacher is lecturing about a historic event, and keeps mentioning the names of several important figures. If a student doesn't recall that figure, they can quickly search for that individual and learn about them without disrupting the class. Similarly, a student who struggles with English has the option to quickly access word definitions without having to ask the teacher every time they hear an unfamiliar word or expression.
Online learning also makes performance tracking quicker and more efficient. Instead of inputting everything to the digital format, assignments and tests can be administered virtually from the get-go. That lets teachers dedicate their time to preparing lesson plans and helping clarify students' questions — instead of spending a huge chunk of their "non-teaching time" grading and organizing data.
Finally, online learning helps children develop independence. With just a bit of guidance from parents and teachers, students can develop skills such as time management and responsibility.
COVID-19 created barriers. But after 1 million hours logged and 10 years tutoring exclusively online, we learned that the medium can truly take learning to the next level. It might take some time, but Revolution Prep is here to help students, parents, and educators get there. 
Our resources page contains articles, webinars, and videos on how to best adapt and manage online learning experiences. We also offer several programs for students to work one-on-one with tutors or in small groups — which helps them get personalized attention from subject matter experts, at any time, from anywhere. 
This does not have to be a lost year for America's children. And it won't be. Let's work together to ensure that instead of a lost year, it becomes one of positive transformation.