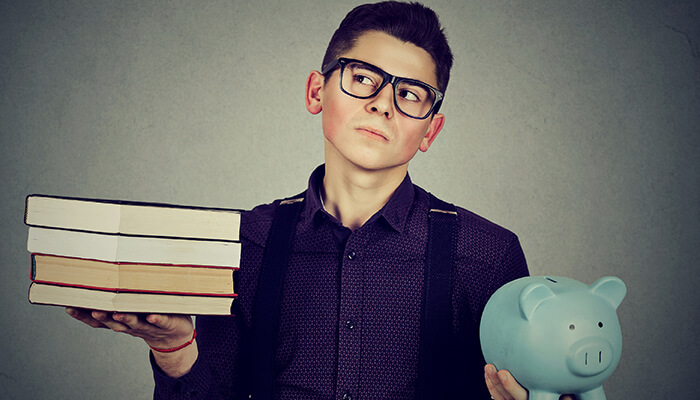 2-minute read
Good parents provide their children with the resources and opportunities to become model citizens and successful people. But many times, those resources and opportunities can get expensive.
You shouldn't have to choose between breaking the bank and sacrificing the quality of help your child receives. At Revolution Prep, we believe quality tutoring should be inclusive and accessible.
After 10 years of online tutoring, we learned that working with quality tutors can be affordable — and we work hard to assure every penny you spend has great value attached to it.
Bill Tetz, Revolution Prep's Vice President of Strategic Partnerships, explains how we're able to offer the best tutoring in the industry at reasonable prices.
"We created a model that puts students first. Our financing options give parents the opportunity to stretch out payments throughout an extended period of time. We also offer a money-back guarantee," he says.
Bill is right. If a parent is not satisfied after the first 6 hours of private tutoring or group courses, they can ask for a full refund.
This offer has one thing in mind: Making sure parents are only paying for tutoring of the highest quality. And our standards at Revolution Prep are very high. We want every student to become more confident and independent learners, overcome challenges, reach their goals, and improve their scores and grades across the board.
Create your own user feedback survey
One of our programs, Homework Help, is another example of our commitment to making quality tutoring affordable and accessible. By paying a flat monthly fee, students have unlimited access to our community of tutors — at all times, from anywhere — in more than 60 academic subjects, including SAT, ACT, and PSAT exam review.
"We learned over the last 10 years that tutoring can have a lasting, positive financial impact for families," Bill adds.
Revolution Prep sets up families to save dozens of thousands of dollars later on. Tutoring leads to a significant increase in student's academic grades and test scores — which translates into scholarships to attend some of the top universities in the world.
Finally, the students we tutor develop executive functioning capabilities that help them excel throughout their whole academic and professional lives.
That kind of value is intangible, and it makes us believe even more in our mission.
Learn more about our affordable Homework Help program and all of our services here.